Red gurnard
Chelidonichthys kumu
Also known as:
Puwhaiau, Gurnard, Red Gurnard
LAST UPDATED: 1 October, 2020
Red gurnard are a major bycatch of inshore trawl fisheries in most areas of New Zealand, including fisheries for red cod in the southern regions and flatfish on the west coast of the South Island and in Tasman Bay. They are also directly targeted in some areas (e.g. GUR 2). Red gurnard is a minor bycatch in the jack mackerel trawl fishery in the South Taranaki Bight.
Red gurnard is, by virtue of its wide distribution in harbours and shallow coastal waters, an important recreational species. It is often taken by fishers targeting snapper and tarakihi, particularly around the North Island.
Red gurnard is managed by Fisheries New Zealand using the Quota Management System (QMS).
The risk assessment covers nearly 90% of gurnard caught commercially in New Zealand.
For more information, download the full Risk Assessment Report.
RISK ASSESSMENT PROCEDURES
The risk assessment framework is used to assess the relative environmental risks of Australian and New Zealand wild-caught fisheries on fish stocks and the aquatic environment.

Assessments are undertaken for each species according to multiple 'units of assessment' (UoAs). The UoA is a combination of target species/stock and the gear type used by the fishery. Each UoA is assessed against three components for target species, bycatch and ecosystems, and management systems. Each component has a number of performance indicators, which have associated criteria, scoring issues, and scoring guideposts. For each UoA, each performance indicator is assigned a risk score according to how well the fishery performs against the scoring guideposts. The summary of risk scores by UoA is presented in the table below.

An assessment of the future 'outlook' over the short to medium-term (0-3 years) is provided against each component. Outlook scores are provided for information only and do not influence current or future risk scoring.

All risk assessments are conducted by an independent third party. The process only takes a few days and includes opportunities for management groups and the government to provide input and peer review.

The information presented on this page is extracted from the independent species Risk Assessment Report.
Fishing Areas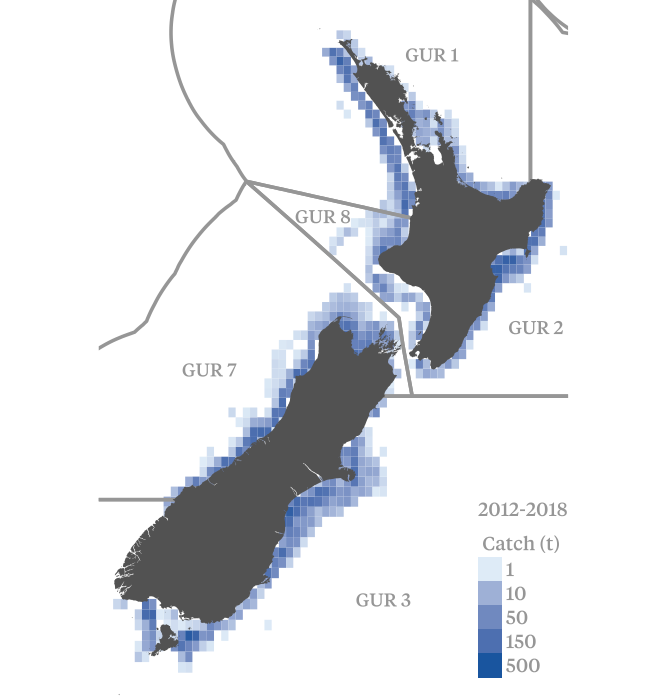 Catch Quantities
Commercial catch allowance 2020/21
Historic catch quantity data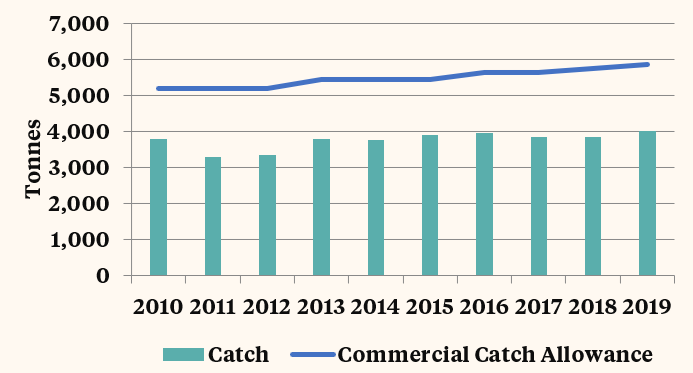 Estimated recreational catch
Estimated customary catch
Unknown
Fishing Methods
Trawl
Risk Assessment Summary
Management areas assessed
The risk assessment comprises three components:
Component 1: Target species
Component 2: Bycatch and ecosystems
Component 3: Management system

Target species
Component 1 of the risk assessment looks at the health of the population of target species including the current fishing effort and estimates a risk of overfishing.
The most recent stock assessments for GUR 1 were undertaken in 2013, GUR 2 in 2017, GUR 3 in 2015, and GUR 7 in 2017. All used standardised Catch per Unit Effort (CPUE) analysis.
Each stock was assessed against stock-specific reference points consistent with the Harvest Strategy Standard.  The Ministry for Primary Industries concluded that each stock was as likely to be above the target reference point, and unlikely to be below the soft and hard limits.  Given the above, the combined stock appears highly likely to be above the point of recruitment impairment and fluctuating at or around levels consistent with the Maximum Sustainable Yield.
Bycatch and ecosystems
Component 2 of the risk assessment looks at the risks around bycatch species and other environmental impacts of the fishery.
New Zealand's inshore trawl fisheries are complex, multi-species fisheries, harvesting a wide range of inshore finfish species.  The composition of the catch can vary considerably in space and time based on variations in recruitment, changes in market demand, and the like.  Information on the retained portion of the catch is very strong, reported, and verified through the QMS reporting arrangements.  For some stocks, this is sufficient to assess the impact of the fishery on the main other species with respect to status and detect any increase in risk.  However, the available quantitative information is not sufficient in all cases.
Information on the discarded portion of the catch is limited.  Observer coverage in inshore fisheries has historically been very low (or absent from some sectors), and the main information on overall catch composition comes from independent trawl surveys, which may not be an accurate reflection of commercial catch composition (for example different gear may be used).  There is also limited reporting of discards in commercial catch returns. Given the absence of discard information for all sectors, it is not possible to assess impacts and the fishery has been assessed as precautionary high risk.  The introduction of electronic monitoring in some sectors may help to better characterise discards.
The risks of the inshore trawl fishery to endangered, threatened and protected (ETP) species have some regional differences in risk based on the distribution of ETP species. The main potential ETP species interactions in the inshore trawl fisheries are with seabirds and marine mammals.
Risks to seabirds associated with New Zealand's commercial fisheries have been assessed through a hierarchical series of risk assessments. In the most recent assessment, only one species of seabird, black petrel, had a median risk ratio higher than 1 (or upper 95% confidence limit higher than 2).  For all other species, current rates of fishing-related mortality were not expected to hinder the achievement of management targets (i.e. the risk ratio was <1).   The specific contribution of inshore trawl fisheries to black petrel potential fatalities is not known, but the total estimated captures in trawl fisheries represent a small fraction of the overall estimated captures for black petrel.  Based on rates of observer coverage, it is estimated that between 400 – 600 seabirds are captured in New Zealand's inshore trawl fisheries each year. There is also evidence from the most recent risk assessment that risk to black petrel has declined since the introduction of the current National Plan of Action - Seabirds in 2013.  Accordingly, the direct effects of the inshore trawl fisheries appear highly unlikely to hinder the recovery of ETP seabird species.
Between 2002–03 and 2014–15, there were six observed captures of New Zealand fur seals, and no observed captures of New Zealand sea lions, in inshore trawl fisheries.  Estimated captures of fur seals in the same period ranged from 40 to 114 annually.  New Zealand fur seals are the most common seals in New Zealand and are listed as 'least concern', with an increasing population trend.  There are no national or international limits on incidental captures of fur seals.  Based on this it appears highly likely that current rates of capture are not hindering the recovery of either species.
With regards to Hector's and Maui dolphin, given the very low median estimates of annual fatalities in the trawl sector, it is unlikely that the trawl fishery will hinder the recovery of either species. However, given the preliminary estimates of risk for common dolphins, including the possibility that the risk ratio from commercial fishing may be up to twice their sustainability threshold, and the inshore trawl fishery is considered an important contributor to risk for this species.  The installation of on-board camera monitoring for some sectors of the fleet (phased in from 1 October 2018) will likely assist in better estimating the extent of interactions between marine mammals and inshore trawl vessels.
The results from the New Zealand Marine Mammal Risk Assessment can be found here.
Management systems
Component 3 of the risk assessment looks at the risks around the management systems of a fishery.
The Fisheries Act 1996 (the Act) and subsequent amendments provide a binding legislative and legal framework for delivering the objectives of Components 1 and 2.  Sections 10, 11, and 12 of the Act establish the requirements for the decision-making process, and Section 10 further requires the use of the best available information for all decisions. The Act requirement for best available information leads to scientific evaluation in advance of decisions. The Act further requires consultation with such persons or organisations as the Minister considers are representative of those classes of persons having an interest in the stock or the effects of fishing on the aquatic environment in the area concerned including Maori, environmental, commercial, and recreational interests.
While objectives broadly consistent with Components 1 and 2 are specified in the Act and Fisheries 2030 and are therefore implicit in the fishery specific management system, it is not clear that explicit short and long term objectives for inshore trawl fisheries are in place at this stage.  Nevertheless, the fishery management system is subject to regular internal review through the fisheries Plenary reporting process and decision making is guided by the Harvest Strategy Standard.  The Ministry for Primary Industries implements a comprehensive peer-review process for all scientific research that is used to inform fisheries management decisions.
It is clear that sanctions to deal with non-compliance exist for a range of offences, and these sanctions are regularly applied by the Ministry for Primary Industries. The Ministry operates a comprehensive monitoring control and surveillance system including:
fishing permit requirements;
fishing permit and fishing vessel registers;
vessel and gear marking requirements;
fishing gear and method restrictions;
vessel inspections;
control of landings (e.g. requirement to land only to licensed fish receivers);
auditing of licensed fish receivers;
monitored unloads of fish;
information management and intelligence analysis;
analysis of catch and effort reporting and comparison with landing and trade data to confirm accuracy;
boarding and inspection by fishery officers at sea; and
aerial and surface surveillance.
In addition, the Ministry has a fishery outreach programme of informed and assisted compliance, in which enforcement agents work with the industry in a proactive way to ensure understanding of regulations and to prevent infractions.  In combination with at-sea and air surveillance supported by the New Zealand joint forces, vessel activity can be monitored and verified to ensure compliance with regulations and with industry-agreed codes of practice.
Summary of main issues
Main issues highlighted by the assessment are:
The position of several target stocks against reference points is not known, as is the probability that current catch or the Total Allowable Commercial Catch (TACC) will result in a decline in biomass below soft and hard limits
Observer coverage in inshore fisheries has been very low historically, and very limited information is available on composition and volume of discards.
The inshore trawl fisheries interact with a range of ETP species. Although recent risk assessments indicate the extent of estimated captures of seabird species should not hinder recovery, there is uncertainty over the impact of the fishery on common dolphins.  Preliminary results from the New Zealand Marine Mammal Risk Assessment identified common dolphin as the marine mammal species most at risk from commercial fishing.
The widespread nature of bottom trawling suggests that fishing is the main anthropogenic disturbance agent to the seabed throughout most of New Zealand's EEZ. Recent research suggests moderate and high levels of trawling intensity occur in a relatively small proportion of areas shallower than 200m.  The capacity of seabed communities to recover from trawling disturbance is not well known.
There have been concerns about compliance with quota species retention provisions amongst inshore fisheries.
Outlook
The outlook below provides a qualitative judgment about the likely future performance of the fishery against the relevant risk assessment criteria over the short to medium term (0-3 years).  Assessments are based on the available information for the species and take into account any known management changes.
Target species (GUR 1) - Uncertain: Red gurnard is taken mainly as bycatch in GUR 1.  Abundance appears to be somewhat cyclical, based on recruitment variation.  Without information on recruitment, it is not possible to predict future stock trends.  The Total Allowable Commercial Catch (TACC) is set substantially above current catches.
Target species (GUR 2) - Stable: The stock is very likely to be at or above target levels, and it is unlikely that the current catch or TACC will result in the stock falling below the soft limit.  Standardised CPUE in 2015–16 was well above the target.
Target species (GUR 3) - Stable: Current abundance is at historically high levels and is unlikely to decline below the soft limit in 3–5 years.
Target species (GUR 7) - Stable: The West Coast South Island trawl survey relative biomass indices from 2015 and (preliminary) 2017 were by far the highest of the entire time series.  It is unlikely the stock will decline below soft limits in the next 3-5 years.
Bycatch and ecosystems - Improving: The information base to examine the ecosystem impacts of inshore trawling is growing.  The introduction of electronic monitoring on at least some inshore fleets should improve understanding of catch composition and allow more sophisticated assessments of the impact of the fishery on non-target species.  ETP species risk assessments have been continuously refined over recent years, resulting in reductions in estimated risks from inshore trawling.  Habitat research is ongoing with new studies planned to better understand the dynamics around impact and recovery.  Ecosystem modelling is also underway to better understand the trophic impacts of inshore fishing.
Management systems - Stable:  No major changes are expected to management system risk scoring.
Please note: The risk assessment is not intended as a definitive assessment of fisheries sustainability. It is not intended to act as a replacement or alternative to formal fisheries ecolabeling programs such as the Marine Stewardship Council (MSC).
For more information, download the full Risk Assessment Report or contact us on hello@openseas.org.nz.